Former Governor Of Sokoto State, Aliyu Wammako, recently made a publication, and has aired his opinion about the ENDSARS protests. In a publication by Punch Newspapers, the two time former governor of Sokoto State praised northern youths for not participating in the protest.
According to the current Senator representing Sokoto North Senatorial District:
"I am highly elated with the disciplined and peaceful disposition of the northern youths, even in the face of the provocations and altercations occasioned by the protests that turned violent and lost its original focus, as well as intentions.
"I wondered why the destructive protests raged on even when the Federal Government had acceded to the demands of the protesters.
"One of the key demands of the protesters was the disbandment of SARS and it was immediately disbanded.
"Even President Muhammadu Buhari himself had earlier told the youths that they had good intentions, only for them to deviate from the initial noble cause."
However, the former Senator representing Kaduna Central Senatorial District, Senator Shehu Sani was the first to comment on the news on the official Twitter Page of Punch Newspapers.
In his subtle sarcastic swipe, Senator Shehu Sani shades him by indirectly saying:
"And then they joined the 'End Palliative' Mr Wammako."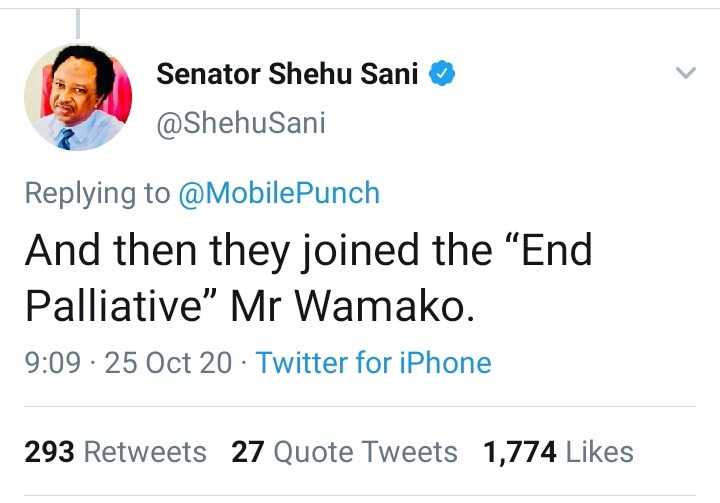 Senator Shehu Sani has been a strong advocate of true democracy in Nigeria, and have been severely punished for it, including serving prison sentences. He is a strong supporter of the EndSARS protest, and has been very vocal about it in recent times.