Reno Omokri, a former media aide to Former President Goodluck Jonathan, have thrown an open Challenge to Nigerian Chief of Army Staff, General Buratai.
Reno Omokri, an activist, have been very vocal in the Lekki shooting incidence, including telling the Military that their game is up because of the incidence at Lekki Tollgate now dubbed "Lekki Massacre".
He has been at the forefront of getting the current Nigerian administration to be accountable to the citizens and follow the principles of democracy while governing the country.
In his latest tirade against the Nigerian government, the activist challenged the Chief of Army Staff to a single combat in a room. The former media aide and writer says that his greatest desire in the Month of November is to be in the same room with Chief Of Army Staff, General Buratai. His major aim is to avenge the death of Lekkimassacre victims.
"My greatest desire in November is to be in a room with General Buratai. No weapons. No referee. Man to man combat. Only one man coming out alive. Let God use me to avenge the cowardly slaughter of peaceful, unarmed, #EndSARS protesters at #LekkiMassacre by that spineless coward!"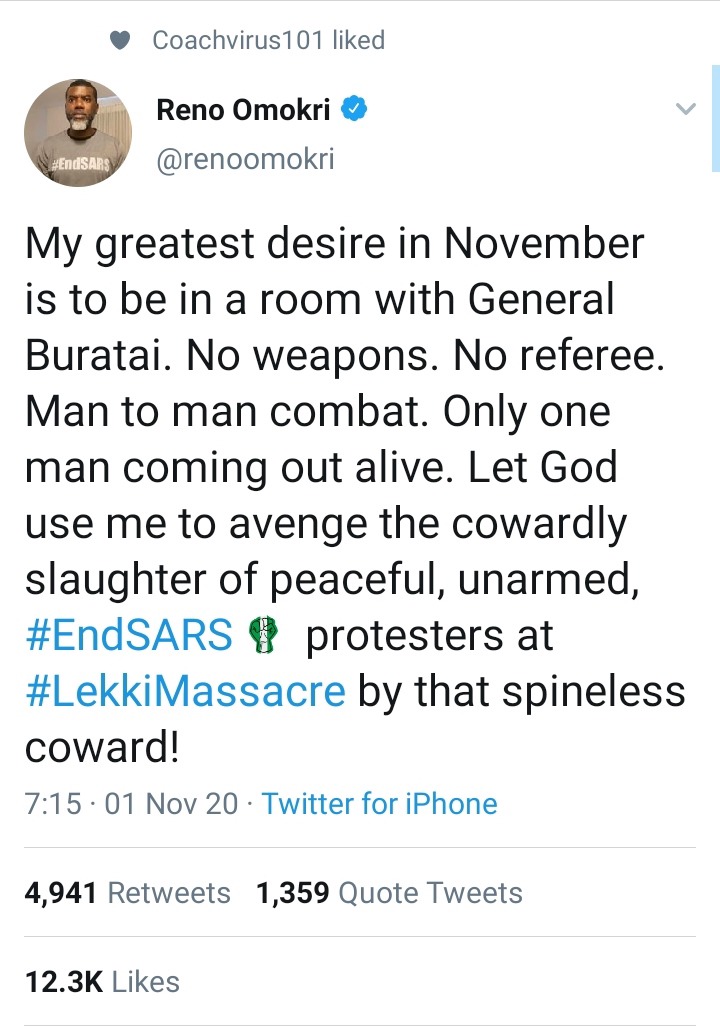 Do you think Reno Omokri can beat General Buratai?
Share your thoughts.