To ensure alleged fair vote counts, the campaigners of President of the United States, Donald Trump, started a lawsuit against electors in Nevada. The said suit was intended to invalidate the election numbers from the state through its claims of " substantial irregularities, improprieties and fraud". See the case here => Law v. Whitmer, Nevada First Judicial District Court (Carson City).
One of the persons affected by the said suit is an elector named Gabrielle d'Ayr, who is a veteran according to her Twitter posts. Apparently dissatisfied by the actions of Trump's campaigners as well as the President himself, she took to Twitter to lambast the president, calling him a coward for suing her because she didn't vote for him.
"@realDonaldTrump I am an elector for the state of Nevada. I am a United States Navy veteran and I am homeless. You're suing me, an individual, for faithfully serving the people of Nevada. Whatever you think you've got, bring it. You will not win. You're a coward."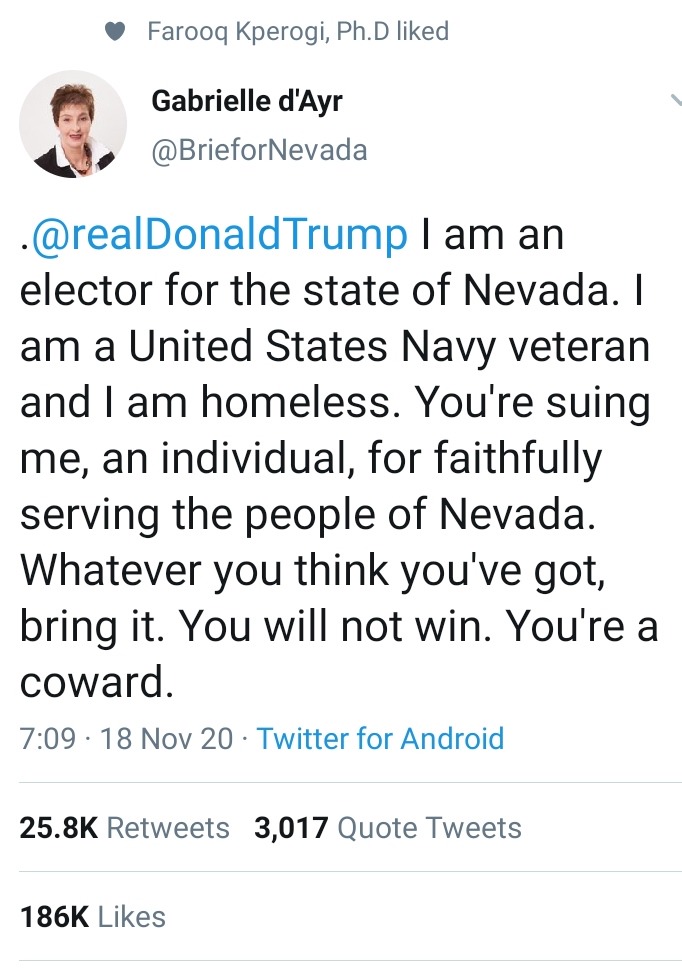 She had earlier voiced her distaste of what she believes is an assault of votes by President Donald Trump earlier before.
"DJT continues his assault on the active duty & vets of Nevada by both attempting to invalidate their absentee votes, & now suing a homeless Navy Vet,"
She later updated her Tweets by adding: