I don't think I have seen this happen for a long time now. It may seem like what they should be doing, but club Presidents walking into the dressing room to celebrate and motivate the players is mostly rare.
But, that's Barca's Joan Laporta for you. The President realizes what the trophy means for everyone, especially with all that the team have been through. In this precarious moments for the La Blaugrana, the president has to be the leader to take the club to higher heights.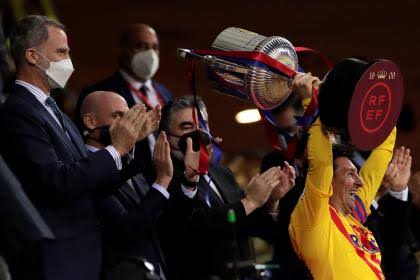 In the video, the players are seen hailing the newly elected president, who goes round to shake and hug each of the players, including Lionel Messi. After that, he literally gingered the team and they started celebrating and jubilating in ecstasy. It felt so surreal and gives hope to Cules around the world, at least a new president that cares is in charge.
In his two previous tenures, Joan Laporta was instrumental in unearthing Ronaldinho, Messi and Pep Guardiola who all together helped redefine the club's legacy in recent memories. Fans will mostly be super excited to see how the rest of his tenure will move forward, especially with the rumours of high calibre players linked to Barca in the transfer market.
Watch The Video