There's been a love gone wrong case in Imo State after a lover reportedly murdered her ex-boyfriend and herself through a poisoned drink.
The late groom, Akuma Felix Emeka, 34, was poisoned after his ex-lover invited him to her and to which he obliged. The incident happened on Saturday, 3rd April, 2021 according to reports from Maria Ude Nwachi who shared the story on Facebook.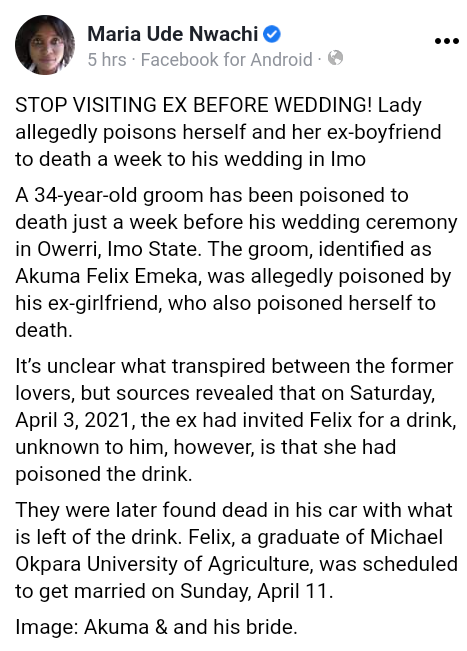 What happened between the lovers is still a mystery, but the bottle containing the poisoned drink was found at the crime scene. Both lovers left what remained of the drink in the car where they were both found dead.
Akuma Felix' wedding was suppose to hold on Sunday, 11th April, 2021 according to reports.
Cases of lovers going extreme and unleashing their venom and hidden vengeance is bad. Not every relationship will lead to marriage. Also, people should stop deceiving others into false relationships. You may get what you are looking for temporarily, but you may end up paying with your life or costing another person theirs because not everyone is as strong emotionally as you probably think they're.
See their pictures: