Griezmann was on song in Barca's away match against Villarreal at the Estadio De La Cerámica in a hotly contested match that could have gone either way.
Although FC Barcelona enjoyed majority of the possessions in the opening half of the game, it was Villarreal who drew the first blood through Chukwueze's sublime finish in the first half.
The Nigerian attacker capitalized on a slip by Jordi Alba to round up Ter Stegen and buried the ball in the back of the net to give Villarreal an early lead in the match. Just 90secs from his goal, Griezmann capitalized on a through ball and produced a deft lob which Sergio Asenjo could do nothing about but watch on as Barca equalised before the 30mins mark.
Not long after that, as if nature was correcting Alba's slip, Juan Foyth of Villarreal gifted Griezmann a misplaced pass. Unfortunately for the Villarreal player, Griezmann pounced on the opportunity, capitalized on his quick moves and scored his second goal of the match to put Barca 1 – 2 at half time.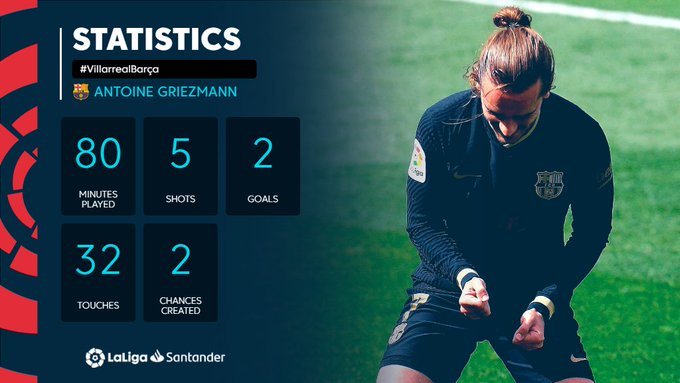 The game ended on same scoreline after a fierce second half that would have left Messi injured from a malicious awkward play by Manu Trigueros. For his troubles, he was immediately giving a marching order by the referee. Griezmann also won the Man of the Match Award, something he hasn't won in a long time now.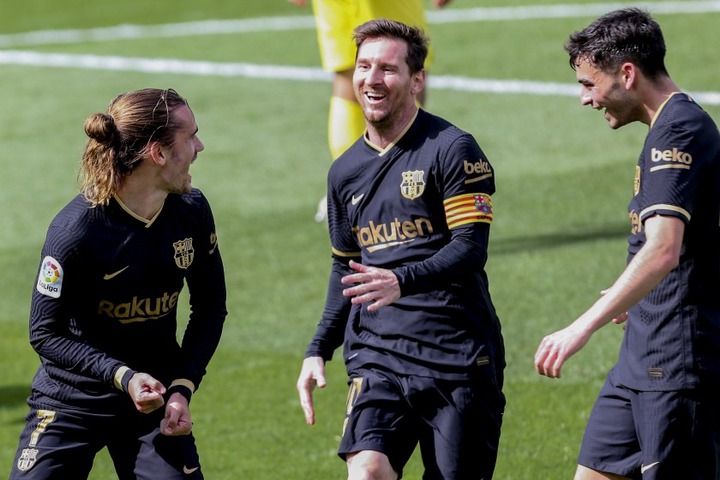 The victory sees FC Barcelona climb three points, and level with Real Madrid at 71 points after the Merengues played out a goalless draw with Real Betis on Saturday. By virtue of head to head in La Liga, Real Madrid sits second despite scoring lesser goals than Barca.
However, FC Barcelona will have a chance to move to second position should they win their outstanding midweek match.