In a brutal verbal reply to the Presidency and All Progressive Congress, the popular Catholic Clergy has revealed his own involvement in the contract allegations against him.
According to Fr. Mbaka, he actually went to the Presidency for a contract, but said the Presidency deliberately misreported the whole thing to attack his personality.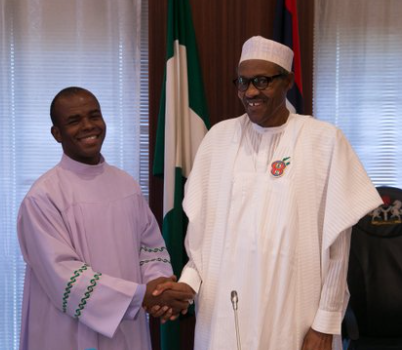 The APC led government had threatened to report him to the Pope for his involvement in politics. However, in his reply, Fr. Mbaka said –
"Why I don't want them even to report this to Rome is because if pope hears the extent of my involvement, they may give me a position I may not like. You want to report Messi to FIFA that he plays too much ball? They will make him soccer ambassador."
In the speech, Fr. Mbaka likened himself to Lionel Messi, stating that if the Federal Government report him to the Pope, the Vatican may likely give him a position to thank him for his efforts. This is exactly what he feels will happen if someone were to report FC Barcelona superstar, Lionel Messi to FIFA for being a wonderful footballer.
He said –
"If Rome hears that Father Mbaka is challenging evil governance, Rome will clap for me, so quickly go to Rome," he said.