• Fulani Herdsmen Told To Leave The South
This was disclosed by the Chairman of Miyetti Allah, Bauchi State chapter. He called on members living in the south to leave the place. He said there is no reason why they should be taking cow to the South, saying instead that Southerners should be coming to buy it from the North.
According to the Guardian Newspaper, the chairman of the group told Southern Governors to concentrate on criminals. He also stated that the way forward to address insecurity in the country is for the –
"President to step aside or for Nigerians to put heads together and elect a credible president in 2023…"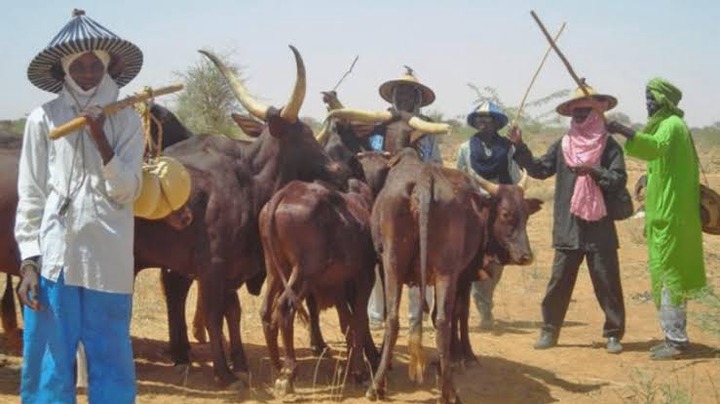 Photo Credit: DailyPost
• Gov. Bello Can't Rule A Pig Farm says Deji Adeyanju
According to reports from the DailyPost, Adeyanju an Abuja based activist has lambasted and mocked the Governor of Kogi State, Yahaya Bello.
According to the activist, Gov. Bello can't rule a pig farm, therefore cannot manage a country like Nigeria.
The co-convener of Concerned Nigerian Advocacy Group says that Bello lacks the requisite skill and capacity to rule Nigerian. He made this statement after the Kogi State Governor said that a lot of Nigerians are asking him to contest for the post of the President. In his reply, Deji said –
"Yahaya Bello is not fit to be president of a pig farm. Kogi State is the worst governed state in Nigeria. Civil servants are feeding from dustbins".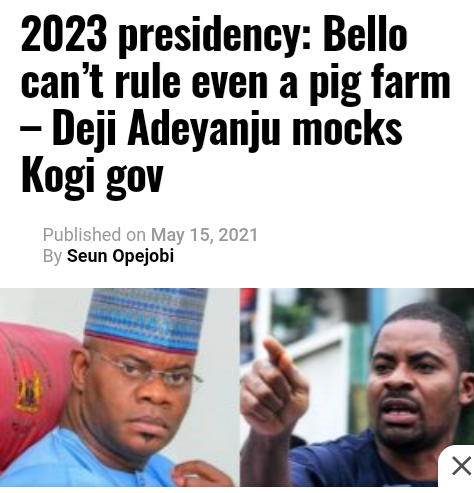 Photo Credit: Daily Post.
• Buhari Leaves For France On Sunday For African Finance Summit
The President has jetted out for the International summit that is focused on addressing the economic crunch inflicted by Corona virus on most African economies.
The President is also expected to meet with the French President to discuss issues of security in the continent. Health, climate change and so many other issues challenging the African economy are also part of the agenda's to be discussed at the summit.
This was disclosed by Garba Shehu, Senior Special Assistant to the President (Media & Publicity).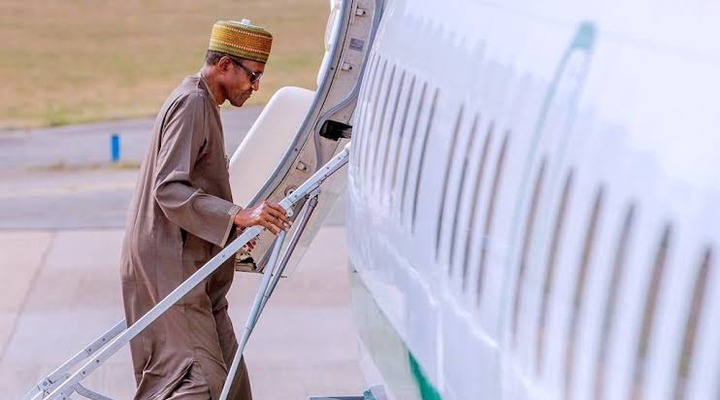 Photo Credit: Premium Times.
• NPA: Hadiza Usman's Suspension Disheartening –former Liberian President, Sirleef
The former President of Liberia made this known through her Twitter handle, and shared her mind on the current predicament facing the erstwhile managing Director of the NPA.
In her Twitter post, she stated that she is "disheartened" by the news of the 165 billion Naira scandal rocking the Nigerian Ports Authority (NPA).
She urged the government to apply caution and rule of law in addressing the issue.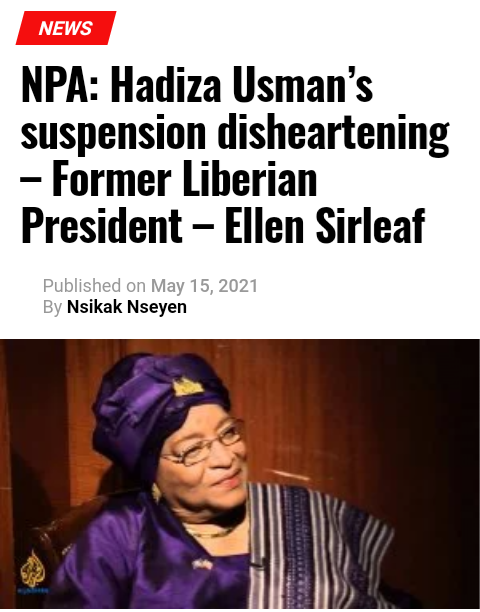 Photo Credit: DailyPost.