According to an official report posted by the National Drug Law Enforcement Agency [N.D.L.E.A], one Mr Martins Okwo Ejiofor and Bala Mohammed have been caught with huge loads of outlawed drugs – up to 24kg in weight.
From the report, the two drug lords went to Lagos to secure the drugs with the purpose of transporting same to their bandit buyers in Niger State.
The NDLEA stated that their operatives accosted the drug traffickers while they were conveying the illicit drugs to Gwada in Shiroro Local Government Area, Niger State.
However, their luck ran out when operatives of the Agency who patrolled the Jebba Highway in Ilorin (Kwara) arrested them. A search of the vehicle showed that they were transporting illegal drugs through a State owned transport vehicle. They were caught with 7.1kg of Codeine, 10.95kg of Exol 5 and Diazepam – 6.4kg.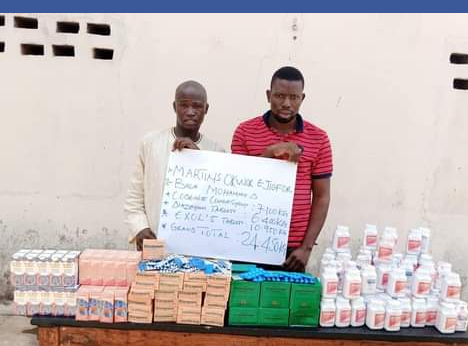 During interrogation, one of the suspects, Martins Ejiofor confessed that he was recently released from prison in March, 2021. He also revealed that he served a one year sentence for selling marijuana after being caught and charged to Court for possession of over 50kg of marijuana. However, after regaining his freedom, he returned to the drug business once again. A very bad decision once again as it stands.